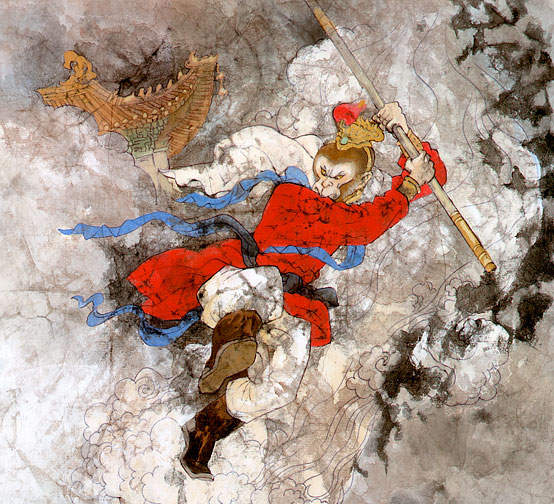 Monkey-brained Musings
McCaul Unhesitant on Social Security Plan
The
Houston Chronicle
is reporting that Congressman McCaul, CD 10, "heard largely positive comments comments about the [President's Social Security] plan during his week of traveling around District 10." That's funny, I didn't even know that he was in town. McCaul is mentioned as unhesitatingly backing the President's Plan and is quoted as saying that he is "very fortunate that my district is so supportive."
Oh really, Mr. McCaul. Perhaps, then, you need to hear from more of your constituents and perhaps you should hold one of your meetings in Austin The Congressman can be reached at the following address:
The Honorable Michael McCaul
300 East 8th St., LBJ Ste., 9th Fl.
Austin, Texas 78701
Gratuitous Oscar Post
Here we are the Academy Awards again, and I am racing right up to the wire with my thoughts and prognostications. It should be an interesting evening as many of the categories are too close to call.
Best Picture
Likely Winner: Aviator
Should Win: Million Dollar Baby or Ray
With the caveat that I haven't seen Finding Neverland (took a pass this afternoon because the weather is just so gorgeous), this is a very competitive category, with no clear favorite, and where any of the films could rightly win. Now that I've gotten the conventional wisdom out of the way, I give the nod to the Aviator mostly because it is the sort of historical spectacle from a noted director that the Academy likes to reward. It also may win as votes get split amongst the other pictures. I was more certain that Aviator would win before I saw Million Dollar Baby. Baby is a superbly made and emotionally riveting movie, with only the former true of Aviator
Actor in a Leading Role
Likely Winner: Jamie Foxx
Should Win: Paul Giamatta
Even though Paul Giamatta got dissed, Foxx turned in an amazing performance and rightly deserves the statue.
Actress in a Leading Role
Likely Winner: Annette Bening
Should Win: Perhaps one of the actresses who's performance I haven't seen.
Bening gets the nod both for experience and for playing a theatrical role.
Actor in a Supporting Role
Likely Winner: Morgan Freeman
Should Win: Morgan Freeman
Freeman turned in a very strong performance, and this is his fourth nomination. Alda also did well in his role as a U.S. Senator, but he is doing a far better job portraying a senator on the West Wing, and he deserves another Emmy for that work. Owen is the wild card here since I haven't seen Closer.
Actress in a Supporting Role
Likely Winner: Virginia Madsen
Should Win: Sharron Warren
This is another extremely competitive category. I'm giving Madsen the nod both for the strength of her performance and the weaknesses of the others. Blanchett did a great job, but for some viewers, her braying laugh was like nails on a chalkboard. Linney did a fine job, but if she wins it will be as much for her work last year in Mystic River. Warren turned in an outstanding performance as Ray Charles' mother and deserved a nomination.
Directing
Likely Winner: Martin Scorsese
Should Win: Michel Gondry
Another very competitive category. Scorsese gets the nod for career achievement, edging out Eastwood who won as director of Unforgiven. Payne has already produced a strong filmography and will likely be back here again. Gondry deserved a nomination if not an award for the outstanding control he displayed in presenting the time and perspective shifting in Eternal Sunshine of the Spotless Mind.
Animated Feature Film
Likely Winner: The Incredibles
Should Win: The Incredibles
There is no contest here. I cannot even believe that Shrek 2 and the execrable Shark Tale even received nominations. Was Tokyo Godfathers truly a 2003 release? Can't we make an exception? We can console ourselves that Howl's Moving Castle will be here next year.
Writing (Original Screenplay)
Likely Winner: Charlie Kaufmann
Should Win: Kaufmann
Kaufmann has already built an impressive body of work, and now is the time for him to get the recognition. A win by John Logan could signal a trend in favor of The Aviator.
Writing (Adapted Screenplay
Likely Winner: Alexander Payne
Should Win: Alexander Payne
This will be Payne's consolation prize because he and Sideways are unfortunately not likely to receive many other awards. A win here by Paul Haggis could signal a trend in favor of Million Dollar Baby. I still have no clue how Linklater is even eligible with Before Sunset.
That's enough for now. I'm going to get this posted before I get accused of anything that might resemble live-blogging.
Update:
5 out of 9 on my predictions. It was good to see Million Dollar Baby win for Best Picture, but I still think that Scorsese deserved the award for Best Director.
9/11 Victims
The New York City Medical Examiner's office has completed their efforts to identify the remains of the
9/11 victims
Out of 19,916 body parts, they found:
- 286 intact bodies (10.4%)
- 1,588 victims identified (57.8%)
- 1,161 unaccounted for (42.2%)
How to Get a Film Made
In order to sell a script and get a movie made, all you have to do is write a script that will interest talent, a director, and a studio.
Lynda Obst
has some great advice on what folks in the business are looking for:
- What Stars Like: Parts that will win them Academy Awards, where they play crazy people, great political leaders, saints, martyrs, criminals, psychopaths, serial killers, famous writers, or unsympathetic, outsider-type weirdos.
- What Directors Like: Film noir, downbeat endings, movies that can win them Academy Awards, literary masterpieces that enhance their stature, visually exciting back-drops, gangsters. All things dark.
- What Studios Like: Buddy pictures, action vehicles, romantic comedies, pre-sold blockbusters, upbeat endings, sympathetic characters, American Dream stories, unfettered optimism.
See, all you need to do is write a script that will interest each of these groups. Piece of cake. Now, get writing.
Quick, the Tana Leaves
The Mummy's Revenge
, my first Pulp adventure for
Adamant Entertainment
is now
available
.
Where Chester?
While at
school
in New York, as I traveled through Westchester, Eastchester, and Portchester, I used to wonder, "Where's Chester?" I knew that the names had been imported from England, but I never knew their origin. Well, I recently
learned
that "chester" is the Saxon word for "castle" and that Port was a Saxon chief.
Is Congress Avenue Threatened?
Preservation Texas
has declared
Congress Avenue
to be one of the most endangered historic places in Texas. They say that the threat comes from tall buildings fronting and shading the steet. The group asserts that the City needs to be more aggressive in enforcing its building setback requirements.
While I appreciate their concerns, where were they when we needed them? Sixty years ago, Congress Avenue was a bustling, commercial thoroughfare. In the decades since then, retailers abandoned the street for malls and other automotive friendly locations. Now that Congress Avenue and Downtown are coming back and are alive with activity, Preservation Texas says that it is threatened.
Preservation Texas' statement, though, says more about their organization than it does about Austin. If you look at their
2004 list
of endangered places (the 2005 list has yet to be posted), you will see that it is a haphazard collection that adheres to no coherent standard of design or historical significance. Their list is in marked contrast to
the list
released by the National Trust for Historic Preservation last year. If anything, Preservation Texas' list illustrates the intellectual difficulty many supporters of historic preservation face in attempting to reconcile how to integrate recognition and appreciation of the historic buildings into our contemporary lives and economies.
Buildings and cities learn
and change over time. Our cities are like coral reefs. We construct them over generations with each generation building upon what has been laid down before. The Congress Avenue that we are building today is a continuation of a great streat that has waxed and waned since
Edwin Waller
first surveyed it more than 150 years ago. There is no threat to Congress Avenue today, but there are some historically signifcant buildings on the street that would welcome new tenants.
DFT at the DNC
Several representatives from
Democracy for Texas
attended the Democratic National Committee meeting last weekend, and Fran Vincent got to post a
report
on the Blog for America.
Family Values
Conservative commentator and former candidate for the U.S. Senate in Illinois,
Alan Keyes has thrown his 19-year old daughter, Maya, out of the house
because she is a lesbian. He has also cut off her college tuition. Maya has been admitted to Brown and had deferred admission so that she could work on her father's campaign. Maya is quoted as noting that "most parents would be thrilled to have a child who doesn't smoke, have sex, do drugs, hardly drinks. . . , does well in school, gets good grades, gets into the Ivy League. . . , goes regularly to church, spends free time mentoring kids." Maya's tuition for next year will be paid by the Point Foundation, a San Francisco charity that aids gay and lesbian students that have been disowned by their families.
Lasso Needs to Get a Clue
A recent
Lasso post
attacked "environmental panhandlers and endorsed efforts by New Braunfels to shut down environmental canvassers. Canvassing organizations such as
Texas Campaign for the Environment
and
Clean Water Action
use canvasses to inform citizens on environmental issues and to identify and recruit supporters for environmental initiatives. A canvass on matters of public import is an activity clearly endorsed and protected under our First Amendment rights of speech and association. How exactly are we supposed to have an informed electorate if we are prohibited from speaking to one another?
Who's House?
So, if teachers and Consumers Union aren't welcome at the Capitol, who is? Teachers who came to Austin to speak on the need for pay raises, smaller classes, and other educational reforms were stiff-armed by legislators who wanted to know who was minding their classes. Most of the teachers had taken personal leave to come to the Capitol. One had even paid for his own substitute. This occurring on the same day that the Dallas Morning News reported that Consumers Union has all but given up on the Texas Legislature. CU has chosen to take a regional, issues oriented approach rather than working in the Legislature where the business lobby holds sway. I would like to think that this is all just part of the darkness before the dawn, but the legislative session still has nearly four months to go.
Rearranging the Deck Chairs
Governor Perry has proposed further limiting the cap on property tax appraisals. Speaker Craddick is talking about a statewide property tax. But, both are ignoring the real problem. Property taxes, and the dependence of our schools on property tax funding, are the problem. The cap on appraisals will punish cities, counties, community colleges, health districts, and other entities without providing any benefit to our schools. California has already shown us the folly of capping residential property taxes. As a consequence, local governments have chased after commercial properties that generate fewer demands on government services (fire, schools, etc.) and, consequently, have created a shortage of housing that has increased the cost of living. While Craddick's statewide tax may solve the legal problems of school finance, it won't address the structural problem of our dependence on property taxes.
The challenge in Texas is that we are trying to run a 21st Century state on a 19th Century tax structure. Property taxes made sense when most wealth was in real estate. Today, though, as fixed costs, property taxes increase the cost of just about everything, from housing, to consumer goods, to doing business. In this way, Texas' reliance on property taxes hinders our competitiveness nationally and internationally. So, while the Governor and Speaker can continue to find ever more creative ways to tweak our property tax structure, it is still not going to amount to anything more than rearranging the deck chairs on the Titanic.