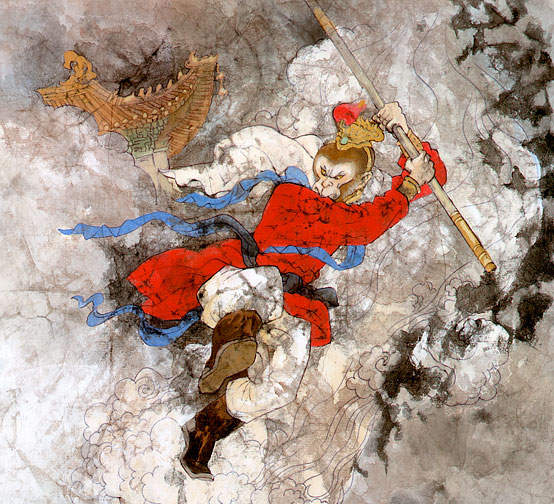 Monkey-brained Musings
The Good of the Country
The smear campaign against former U.S. Ambassador Joe Wilson has gone into overdrive since last week's revelations about Karl Rove's involvement. Wednesday, the
Statesman
published two letters that closely followed the talking points designed to discredit Wilson that have been circulated by the Republican National Committee.
A group of 11 former intelligence officials has now released a
letter (pdf)
to the Congressional leadership calling the disclosure of Valerie Palme's name "a shameful event" that "may have damaged U.S. national security and [that] poses a threat to the ability of U.S. intelligence gathering using human sources." They also call on Congress to speak with "a single non-partisan voice on this issue." They then close with "For the good of our country, we ask you to please stand up for every man and woman who works for the U.S. intelligence community."
Unfortunately, the good of the country seems to be the last thing that the Administration and its supporters are thinking of.
And a Fighter By His Name
And, in this corner, weighing in at 6 pages, a classic Pulp archetype. Now, go back and come out
purchasing
.
Sic Transit Gloria Mundi
I went to
Jeffrey's
last night. Dinner was okay, but not exceptional. The first thing that I noticed was that the blackboard menu is gone. Now, it has been awhile since I last went to Jeffrey's and the last time I was there was with a large group that ate in the back room, but I missed the blackboard. I think that Jeffrey's was the first place that I ever saw a blackboard menu, and its changing selection of fresh items always made Jeffrey's seem like an exceptional place.
The menu, though, was disappointing. I settled on the tuna, which was good but not really anything special. Other people at the table had the lamb and Kobe beef. Both tasted good, but neither looked very appealing. We started with an appetizer of oysters on barbecue potato chips. The lightly fried oysters were excellent, but the first thing that hit you was the barbecue potato chip smell. There was one green salad on the menu, and it looked and tasted like something from
Chili's
.
The wine menu was extensive, and we had a very nice bottle of chateauneuf-du-pape. The sommelier also seemed to be very well informed, even though, he made me think that I had been going to Jeffrey's since before he or anyone else on the wait staff was born. We also had very nice drinks in the bar before hand.
They had a curious and disappointing dessert menu. The menu was about 12 inches long with two columns, but only included about two inches of desserts. The rest of the space was filled with after dinner drinks. The dessert choices were so unremarkable, that we left without ordering any dessert or coffee.
It is a good thing that we have so many choices for fine dining. For an exceptional dining experience, we have
Wink
, and for dependable quality there is
Vespaio
.
Climate Change and You
A company is now providing each of us with an opportunity to do something in response to the carbon dioxide emissions that are contributing toward climate change.
TerraPass
is selling emission credits that you can purchase for your personal vehicle. The funds generated by the sale of TerraPasses are used to finance projects that reduce industrial carbon emissions.
The TerraPass is a form of emissions trading. Since the Clean Air Act Amendments of 1990, industrial emitters have been able to take advantage of emissions trading. Free market advocates have long promoted emissions trading as a market-based alternatively to further regulations. I look forward to seeing the TerraPasses on their cars.
Their web site includes a handy
carbon calculator
that you can use to calculate the annual carbon emissions from your vehicle. My car, a 1997 Volvo 850 wagon that I drive ~12,000 miles annually, emits ~9,586 pounds of carbon dioxide each year. This puts me in line for a Standard TerraPass at $49.95. If I drove my car less than 10,000 miles annually, I could have qualified for an Efficient TerraPass at $39.95. Alternatively, if I didn't live in the Central City and if I had a longer commute or drove my car for work so that I drove 20,000 miles annually, I would need to buy a Utility/Performance TerraPass at $79.95.
On the other ends of the scale, if I drove a Hummer that emitted 18,058 pounds of carbon dioxide annually, I would need a Utility/Performance TerraPass. Alternatively, if I drove a Prius that emitted 4,226 pounds of carbon dioxide per year, I would qualify for a Hybrid TerraPass at $29.95.
The TerraPass also gives Austinites another tool for addressing air emissions. While the City of Austin is already doing a good deal to promote
air quality
, the TerraPass provides each of us with means of mitigating the impact of carbon dioxide emissions.
Step Up Texas
A new web site,
Step Up Texas
, is now soliciting comments and endorsements for prospective and speculative Democratic candidates for the 2006 races. The web site covers statewide, congressional, legislative, and county races. Registered members are able to endorse or comment on prospective candidates. Membership is free.
The site objective is "[t]o expand the conversation about who runs on the Democratic ticket in 2006." Any member can nominate a candidate. And, there are a few frivolous ones, such as Lance Armstrong, Molly Ivins, and Carol Keaton Strayhorn. The number of endorsers and commenters is still low, so they still have a ways to go in expanding the conversation. But, it is an interesting idea.
Several local races have compeating endorsements for potential candidates. Noteably, Kirk Watson versus Gonzolo Barrientos for SD-14. Ted Ankram is also named as a potential candidate for CD-10. At the moment, though, most of the attention is on race for Governor and other statewide offices.
The site is soliciting input on county races. Currently, it appears that the big races in Travis County will be for County Judge and for Commissioner, Precinct 3.
Gordon Lee Trial Date
The
Gordon Lee case
is set for trial in September. Lee has been charged with "the unsolicited delivery of any content depicting nudity to any person in the state of Georgia" for inadvertantly handing the wrong comic book to the wrong person on Free Comic Book Day. The Comic Book Legal Defense Fund will be hosting a fundraiser at the San Diego Comic Con to help defray Lee's legal expenses. Donations can also be made
online
.
Update:
Steven Bates at
ICv2
has posted a column on the Lee case that includes the following assessment:
But nudity in comics has always touched a nerve with people, as comic books are so widely perceived in our culture to be simply a form of children's literature. Unlike countries like France, Japan, and Denmark, where comic strips and books are as highly regarded as novels, film, and theater, Americans still believe comics are for kids. Everyone in the industry knows that, and the best of us do everything we can to alter the public's perception, to foster acceptance of the medium as a legitimate hybrid form of art and literature.

. . .

For future Free Comic Book Days, I'd like to see established a set of guidelines for publishers to follow, restricting the content to all-ages appropriate material. While this might impair some publishers, I believe anyone inspired and creative enough to produce comic books should be capable of communicating their ideas and concepts without nudity and vulgarity.